Neptune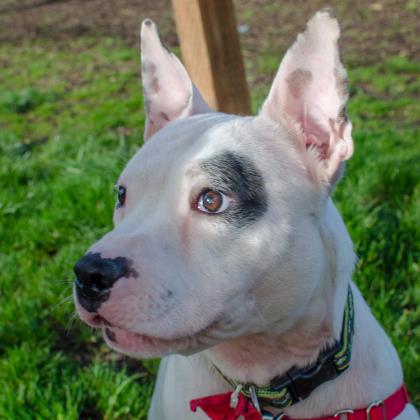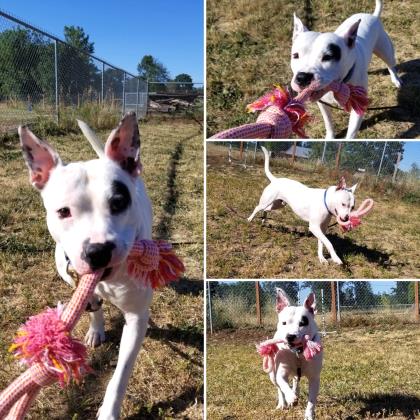 Primary Breed:
Terrier, Staffordshire Bull
I'm working with my friends on the training team! If you want to meet me, please fill out an application and wait for them to schedule our first date!
So you're looking for a dog? I could be that dog, but only if you want a Very Special Dog. VSDs are known for their extraordinary snuggle capacity and super good looks. See my dashing eye patch, finely shaped ears, and athletic build? These certainly qualify me as a VSD. My friends here will also attest to my snuggle skills. Really, it's your lucky day to meet me! Besides the standard VSD traits, I also have a great sense of humor and promise to make enough jokes to keep us laughing every day. I would hate for you (or me) to get bored, so I'll be sure to play with you EVERY SINGLE DAY and keep you on your feet as much as possible. Hope that's cool with you.
Anyways, it turns out, I'm looking for a Very Special Human. My VSH needs to know I can't hear, which has its perks and challenges. The perks? Well, I've heard other dogs bark when the door bells ring, but not me! And once I'm asleep, I'm asleep... so no tip-toeing around me needed during those times you've got stuff to do that doesn't include entertaining an awake-me! The challenges? I am very alert to visual novelties and movements--sometimes I get excited and forget my mouthy-manners (whoops), and other times I want to run away from Very Scary Monsters. Being touched unexpectedly or around my face can be worrisome, too, but I'm trying really hard to trust people again. I've been working on my eager-eater manners, too, because bowls. OMG bowls. Have you ever loved something too much? Yeah, that's bowls for me.
I love romping and wrestling with other dogs, but you should know that I can't hear them when they tell me "enough" and I just keep coming back for more. Some dogs pick on me, too. Dog parks won't be my thing, but if you have a tolerant, playful dog, I would be up for meeting them! I don't know what cats are, sorry. Finally, if you're wondering about kids, yeah, no. Not my thing. I want all of your time and love, please and thank you.
It's important that my VSH uses only kind and compassionate (but effective!) rewards-based training and is committed to helping me learn that the world is safe and how to become the Best VSD (a BVSD if you will). To help us get started on the right paw, we get to attend Dog Smart and three private lessons, included in my adoption. How awesome is that?!
I'm really excited to find my VSH, and I hope you're them! Make an appointment to meet me, and be prepared to fall in love!
Paws out,
Neptune
Photography Sponsor