Maxamillion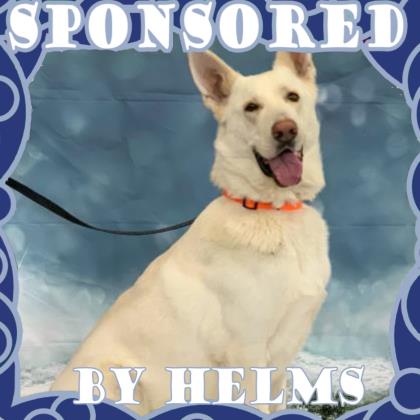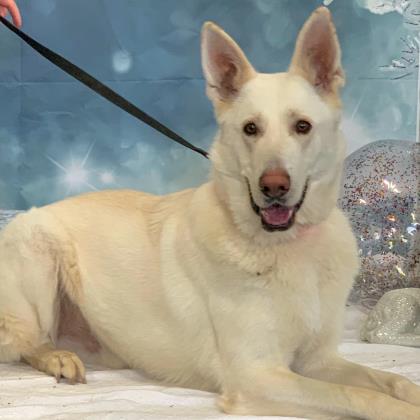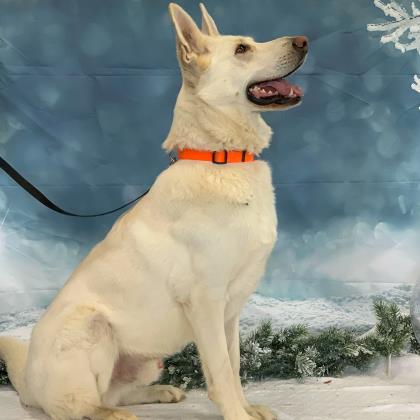 Primary Breed:
German Shepherd
Date Of Birth:
2016-05-26
Chip Number:
985113001714737
Maxamillion is a 4-year-old White German Shepherd mix who is eager and excited about learning new skills through rewards-based instruction. Being as treat-motivated as he is, he will be a quick learner, especially if beef or chicken jerky is the reward for success.
His ideal family will also need to have the patience to work with Maxamillion to help him grow into the well-behaved dog he wants to become. When he is overly excited he will jump up and put his mouth on people. We recommend that he go to a home with older children who can help in his training. His adoption comes with a free 30-minute private lesson to help work on his impulse control. Maxamillion does know the cues for "sit," "down," and "stay." He also keeps the leash loose when he walks.
Maxamillion loves to romp and has a ton of energy, but he also has been diagnosed with hip dysplasia. Moderate daily exercise, avoiding high impact activities such as jumping, may help keep him mobile. Since excess weight puts undue stress on the hip joints, he will need a family who has the time to give him the exercise he needs without overdoing it.
Maxamillion has lived peacefully with cats in his previous home but gradual and behind barrier introductions are highly recommended. He was reported to be selective with his dog friends, especially small ones. He will need to go to a home without small dogs. He will need to meet any dog roommates before going home with them.
Maxamillion is waiting for you, and if he is what you've been waiting for, too, please hit the blue "Apply to Adopt" button above. If you'd love to take him home but are unable to, please consider sponsoring!
**Please note, if you are a resident of Marion County, you are required to license the dog at the time of adoption. There will be an additional fee from $8-$49, depending on your age and the license you request.