Teddy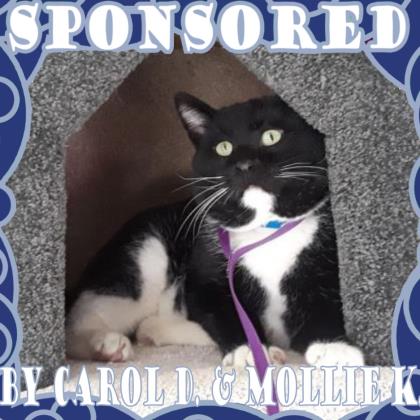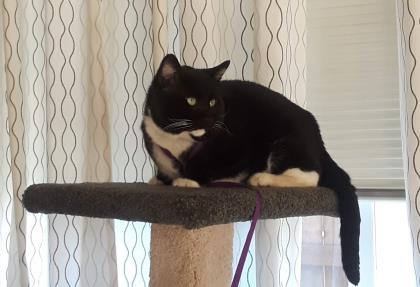 Primary Breed:
Domestic Shorthair
Date Of Birth:
2013-10-04
Chip Number:
982126059842544
This is our dear chubby cheeked Teddy with an old-style charm. He's got that sweet, silent way about him along with those come-hither sleepy eyes to draw you in.
Teddy has seen a lot of life and some of it from the rough side. He's thankful he was rescued so he can now be safe indoors.
Teddy's favorite things are to hang out on a cat tower and a window to look out at all the happenings. He also LOVES when you swirl the long multi-colored dangly toy for him. Check out his video. Be sure to give him attention. Pet him, gentle back rubs, but not too much or he'll walk away from you. Being around you makes him happy. He may not sit on your lap, at least not yet, but he wants to be near you, to be part of the family. He can join a home with older teens who are respectful of his personal space.
Teddy is okay being picked up but it can be uncomfortable for him since he's a big boy. This easy-going boy loves gentle head and chin scritches. He is a hunky guy with a laid-back attitude. Just like us, you'll fall in love with his quiet, gentle demeanor.
While in foster care, he hung out with their resident cats and got along just fine. We feel Teddy would do fine with a cat who is easy-going like he is. Not sure about a dog, possibly one that doesn't chase and is cat savvy as he would become stressed and unhappy. Separation and slow introductions to new animals are key!
Teddy is FIV+ which means he can't go home to cats that will fight him (FIV is passed through deep cat bites). Good food, stress free to support his immune system, indoor life, and a sweet, understanding family is a recipe for lifelong love from Teddy.
Interested in adopting Teddy? Click the "Apply to Adopt" button under his picture.