Morty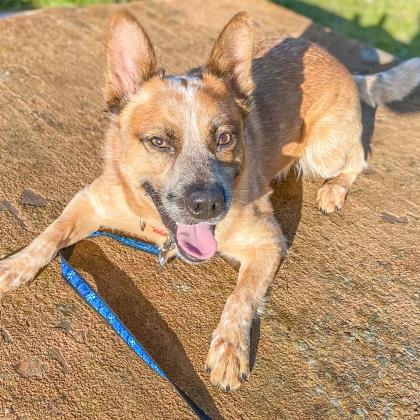 Primary Breed:
Australian Cattle Dog
Date Of Birth:
2018-08-17
Chip Number:
982126059795039
Morty, canine mastermind, is ready to share a lifetime of adventure and knowledge with you! Loved by his friends and close acquaintances, Morty arrived at Willamette humane as a surrender after his previous owner moved.
This little heeler is incredibly bright, showing an adept ability to learn every trick in the book. Morty excels at problem-solving and is always willing to jump into a training session. He has learned an amazing repertoire of cues and behaviors, in addition to some very nice leash walking skills, as he works for rewards with our training team staff.
Morty will succeed best in a home that has experience with heeler-type breeds and is familiar with all the quirks that come along with owning these intelligent, highly driven dogs. Morty enjoys playing fetch, tugging on ropes, performing agility exercises, and chewing on his stuffed unicorn toy. He also enjoys catnaps at our feet in the training room office.
Morty can be shy when meeting strangers. He may require several visits before welcoming you into his pack, but you won't find a more loyal and dedicated best friend once he does.
Due to some of his breed traits, Morty needs a low-traffic home with adults or teens. No small children or small animals, please. If you are missing your daily dose of love or are trying to solve the problem of finding a new best friend, schedule an appointment to visit with Morty!
If you are interested in adopting, please hit the "Apply to Adopt" button above. If you'd love to take Morty home but are unable to, please consider sponsoring!
**Please note, if you are a resident of Marion County, you are required to license the dog at the time of adoption. There will be an additional fee from $8-$49, depending on your age and the license you request.