Theo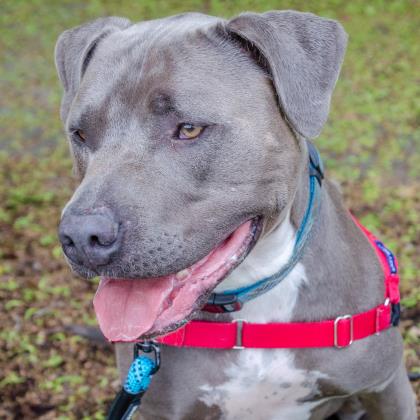 Primary Breed:
Terrier, American Pit Bull
Date Of Birth:
2018-04-28
Theo is one BIG beefy boy!
Some dogs are social extroverts who love to entertain their people and are happiest when they are the center of attention and making their family laugh. Theo is this kind of dog. Are you feeling a little down? Need someone who will boost your spirits? Just walk out of the room and back in again and prepare to be greeted as if you've been gone for days.  
Theo loves to be on the go and will need regular exercise. He's not really treat motivated but loves your attention. Theo will be a breeze to train and thoroughly enjoys rewards-based lessons to learn new skills. Are you going for walks, jogs, or runs? Theo is used to walking for at least 1 mile every day, and he can't wait to go with you! Remember, though, he is a BIG boy and can be a lot to manage.
  Due to Theo's size and exuberance, he should not go to a home with young children. He doesn't understand how rough he can be. Being almost 100lbs he can unintentionally hurt small children.
Theo needs to be the only pet in the household. He is reactive to other dogs and people when he is behind a fence. Given his size, that can be pretty scary for people walking by on the street. It also gets Theo really riled up, and he redirects on other household dogs. For the safety of other dogs, he needs to be the only dog in the household. And Theo has a negative home history with cats. This is behavior cannot be trained out of him. Play it safe and no cats!
If you are an active person looking for an enthusiastic and friendly new buddy, Theo might be your match.
**Please note, if you are a resident of Marion County, you are required to license the dog at the time of adoption. There will be an additional fee from $8-$49, depending on your age and the license you request.