Duke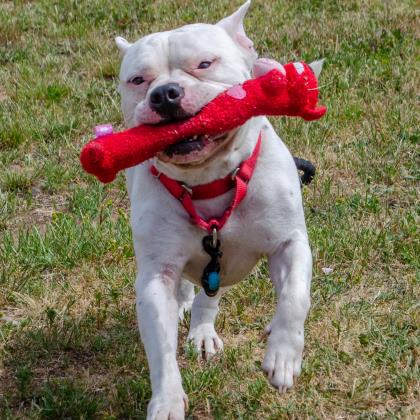 Primary Breed:
Terrier, American Staffordshire
Date Of Birth:
2018-05-29
Chip Number:
977200009442318
Some dogs are social extroverts who love to entertain their people and are happiest when they are the center of attention and making their family laugh. Duke is this silly kind of dog. Are you feeling a little down? Need someone who will boost your spirits? Just walk out of the room and back in again and prepare to be greeted by a wiggly bottom and slobbery kisses!
Duke loves to be on the go and will need regular exercise. Since he is very treat-motivated, Duke will be a breeze to train and thoroughly enjoys rewards-based lessons to learn new skills. He will sit and come, especially if you offer cheese as the reward! Are you planning a road trip? Duke would love to ride along with you!
He loves human attention and will be quite the snuggle bug with his new family members. While Duke has been around children, he is better suited for older kids who can respect his space and help him with his training. He tends to be rowdy and sometimes nippy with smaller children.
Duke has done well in our playgroups and enjoys mingling with other dogs. He does greet other dogs exuberantly which some dogs might find rude, which is why he will need to meet any dog roommates to make sure their play styles are compatible. Duke does get excited by seeing other dogs while on walks. He will pull, bark, and lunge while on leash. He is, however, easily redirected with meaty treats as long as he is kept at a sizable distance from the other dogs.
While he can happily co-exist with humans and other dogs, cats are a different story. Duke finds felines just too tempting to chase and would not do well living with a cat.
If you are an active person or family with a feline-free home looking for an enthusiastic and friendly new buddy who will bring you joy and action, Duke might be your match.
If you are interested in adopting, please hit the "Apply to Adopt" button above. If you'd love to take Duke home but are unable to, please consider sponsoring!
**Please note, if you are a resident of Marion County, you are required to license the dog at the time of adoption. There will be an additional fee from $8-$49, depending on your age and the license you request.